Students are not altogether delighted when a school building is to be renovated because this means that classes have to be continued in a substitute building. This might be an old outbuilding or even a temporary container. However, students in the Bümpliz and Bethlehem school districts in the west of Bern have no reason to complain about their substitute accommodation.
No less than ten school buildings in Bümpliz and Bethlehem were renovated in 2020. To make up for the absence of this accommodation, three temporary modular buildings for a total of 14 classes were erected to the east of Brünnen park in Bern's Brünnen district.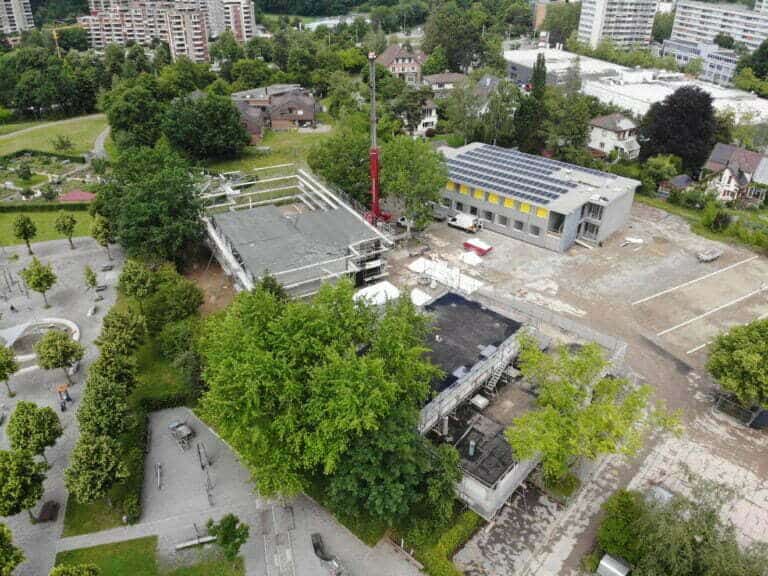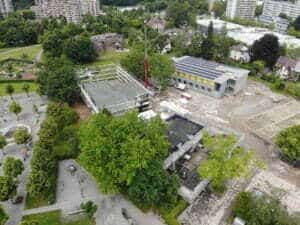 The requirements for the floor: a covering that could be applied easily and quickly, and that would also be aesthetically attractive and robust. A linoleum covering was chosen: this natural covering – consisting of linseed oil, natural resins, limestone powder, cork powder and sawdust – can very easily be cut to match the dimensions of the floor and is bonded directly to the multi-layer wooden floor with a special adhesive. To speed up application and removal, the usual underfill below the covering was also omitted. Flexibility and variety are two of the most important requirements in the construction sector, and we always aim to meet both of them.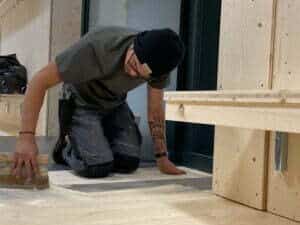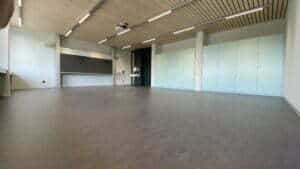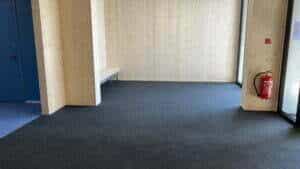 In collaboration with Blumer-Lehmann AG, a company specialising in modular timber construction, the Floors+Flooring team fitted the linoleum covering on the various floor modules in a multi-stage process. Most of this work was undertaken directly in Gossau during production. The rest of the covering – and, most importantly, the strips of aluminium and wood – were then installed on site in Bern-Brünnen.
The mobile building method of the future
Modular buildings are prefabricated room modules that can be assembled individually. They can also be dismantled and erected again at a different location. The three modular buildings in Brünnen have two storeys and consist mostly of wood. Blumer-Lehmann AG led the project and produced the modules for the school buildings in Gossau. "Modular construction" implies that all wall, floor and ceiling elements are manufactured and assembled in the factory, where the sanitary facilities, ventilation and other items of equipment are also installed. The modules are then assembled on site like a house of cards (as in the Tetris video puzzle).
Benefits:
+ Flexibility and adaptation to requirements
+ Sustainability thanks to optimised use of resources
+ Short construction time and reliable scheduling because production does not depend on the weather
+ Clean, quiet site work due to the high level of prefabrication
+ Favourably priced in relation to solid construction